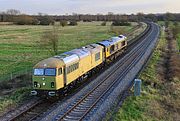 The second Class 69 to be converted from a former Class 56 loco (69002) was towed south for repainting on 15 March 2021 behind 66706 Nene Valley. It is pictured here passing Yarnton, running an hour late as the 0O69 13:00 (14:32 actual) Longport to Eastleigh Works. 69002 was formerly 56311, and before that 56057. Apart from the new lights on the front end, the most noticeable difference of the conversion is the altered roofline, fans and silencer installed in connection with new EMD 710 engine.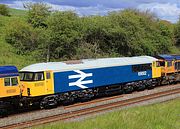 A close up view of the stunning paint job applied to 69002, pictured as it passes Tackley on 5 May 2021, as part of the late running 0M69 08:18 Eastleigh East Yard to Longport light engine move, sandwiched between 66704 Colchester Power Signalbox and 66798. I'm not sure if it's a trick of the light, but the shade of blue looks a little bright, but it certainly looks impressive.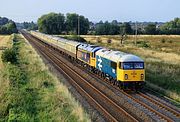 69002 Bob Tiller CM&EE & 69001 Mayflower pass Moreton-in-Marsh on 5 September 2021 with the GBRf 1Z35 16:00 Bescot Up And Down Goods to Paddington 'This Time It's Personal' railtour. This was part of a mammoth four day nationwide tour. The train, which was already running late, had further problems near Honeybourne, when 69002 lost power, resulting in the train being 48 minutes late here. At least it passed in some nice soft evening light, which certainly wasn't the case at many other locations only a little further north. 66765 is bringing up the rear.